A brief profile of Damber Singh College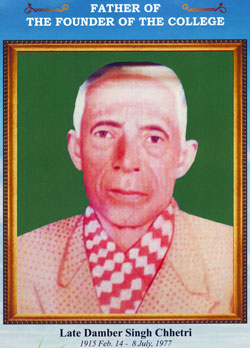 The College offering B.A Pass/Hons. is situated in the picturesque place of mountains at Samdur, Tadong, Gangtok, the capital of Sikkim. The college is connected by National Highway 31A. The nearest railway Station New Jalpaiguri and nearer Airport, Bagdogra are 117 km and 120 km respectively away from the college.
My father late Damber Singh Chhetri used to ask me somewhere in 1950 when I was a primary school student, to teach my neighbourers after the school to write their names to be used in any transaction instead of putting their thumb impression which resulted in the establishment of an Educational Society by the name Rhenock Educational Society for promotion of education in the 1990. The revolutionary idea of my late father to teach people to write their names created more interest of many people in education. ...